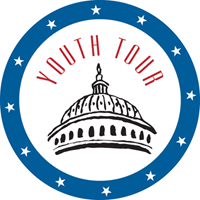 Though program details are being ironed out, the 53rd annual Missouri Youth Tour program will continue to be held this summer. Entries are now being accepted for this year's program. 
Normally, CREC sends six delegates who are among thousands from across the nation to spend a week in Washington, D.C. But due to the COVID-19 pandemic, the trip has been canceled. State organizers are working on plans to hold a conference this summer in-person or virtually. The latest updates on the Youth Tour program will be posted here once they become available.
The annual Youth Tour consists of an essay contest open only to high school juniors who live and attend school in Cuivre River Electric's general service area, or who have Cuivre River electric service to their homes. The 2021 essay theme is "My Favorite Cooperative Principle". Entry forms are available at local high schools or by clicking here. The deadline to enter is Friday, March 12. 
Entries remain anonymous during preliminary judging by Cuivre River Electric staff. The 12 top-scoring essays are selected as finalist and will attend the final competition scheduled for Wednesday, April 14. In the event the public gathering cannot be held due to the virus restrictions, judges will score the essays from the 12 finalists.
The top six finalists will be selcted as Youth Tour delegates. The other six finalists will recieve $500 scholarships. Cuivre River Electric fully funds the Youth Tour program. There is no cost to students or families. Teachers who support the Youth Tour program and submit at least 10 student entries receive a $50 classroom grant from CREC.
Since 1964, Cuivre River Electric has sponsered over 200 Youth Tour delegates for visits to Washington D.C. More than 53,000 high school students sponsored by the nation's electric cooperatives have participated in the Youth Tour sind the educational leadership program began. 
For more information on the Youth Tour program, contact Tim Schmidt at 636-695-4837 or tschmidt@cuivre.com