Drone inspections deliver valuable insights for upgrading infrastructure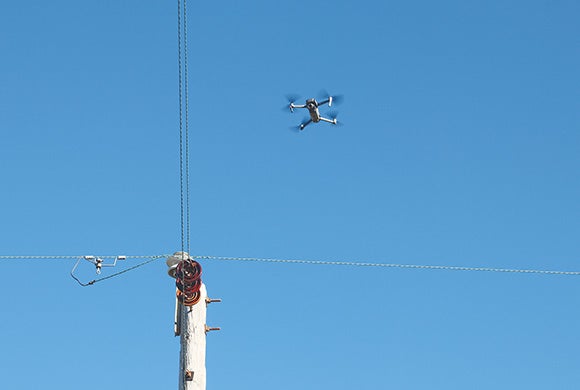 In the summer of 2022, CREC launched a new tactic to boost its maintenance capabilities -- flying drones to inspect the cooperative's 5,600 miles of distribution lines.
Crew Chief Mark Ziegler, who is also a drone pilot, said that the drones can capture the top view of the pole and its structures consisting of transformers, breakers, etc., in addition to other attachments such as phone cable, fiber optic, and any vegetation encroaching on our overhead lines.
"CREC can gather this data, analyze it and check to ensure the pole still has the integrity that it was designed for when installed and if not, create a plan to change the
structures out," Ziegler said. "Over the years, attachments may have compromised the strength of the pole and the inspections will prove that point. This is key to hardening our system to protect from weather events such as ice storms, wind, floods, and earthquakes."
Along with the cooperative's drone, CREC partners with the National Rural Electric Cooperative Association (NRECA) for added assessment of our lines from their high-resolution/ infrared thermal drone camera. The drone data, together with imagery captured by low-orbit satellites are combined within the co-op's geographical information system (GIS) and provide CREC with an extraordinary aspect of what's happening with the co-op's infrastructure as well as our entire distribution system.
Using this collective technology helps with planning for areas in need of improvement, but also aids CREC in detecting issues before they interfere with the delivery of
electricity to members.
"Strengthening our reliability and helping to prevent outages is always our focus," said Vice President of Engineering and Operations Bryon Stilley. He also said that the use of drones and satellite imagery helps pinpoint the growth areas of CREC's territory, contributing to the cooperative's strategic plans for how to best serve those members.
The drone inspection program will continue in 2023 with CREC's attention continuing to be on safety and reliability for its members.
for its members.