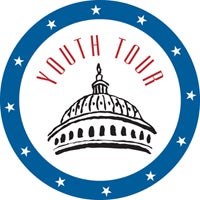 Cuivre River Electric Cooperative is proud to announce its 12 finalists for the 2021 Youth Tour essay contest.
The top 12 scoring essays were selected by a panel of judges out of nearly 60 based on their cooperative knowledge, composition, originality, grammar and neatness.
The 12 finalists are:
Liberty High School
Taylor Shay-Jakul
Sanjana Anand
Jaden Zelidon
Sarah Dickson
Amanda Yoder
Kelsey Looney
Elizabeth Hamby
Jackson Martin
Warrenton High School
Mikenna Collins
Ella Smith
Fort Zumwalt East High School
Natalie Benton
Liberty Christian Academy
Rhiannon Meyer
Normally, a finals banquet and competition is held each year where finalists present their essays orally. However, due to the coronavirus situation, the banquet has been canceled and we will have our three finals judges read each of the essays remotely. The scores from the preliminary and finals competition will be combined to determine whether you are selected as a Youth Tour delegate or scholarship recipient. The results will be announced on Wednesday, April 14.
The top six-scoring finalists will be selected as Youth Tour delegates. They will be invited to this year's Youth Tour conference scheduled for June 16-18 with a hybrid in-person and virtual experience due to the pandemic (two of the days will be spent at CREC's office and the other day will be spent in Jefferson City). In addition, delegates will each receive a $1,000 scholarship and laptop.
The other six finalists will each receive a $500 scholarship.
The annual Youth Tour contest is open to students who live and attend school in Cuivre River Electric's general service area, or who have CREC service in their homes. For more information about the Youth Tour program, contact Tim Schmidt at 800-392-3709, ext. 4837 or by email at tschmidt@cuivre.com.