Protect your home from voltage surges
Power Quality Plus (PQ+) is a comprehensive home power protection program offered to CREC members to help minimize damage to home appliances than can result from voltage surges. PQ+ is a front-end buffer for major appliances termed "white goods," such as the refrigerator, freezer, stove/oven, washer, dryer, furnace/fan motor, air conditioner, etc. Home electronics and microprocessors require extra plug-in surge protection for the best results. 
How PQ+ works
An external meter base adapter "bleeds off" the excess incoming power surge when it takes a lightning strike. It does not keep you from losing power during a storm, but it may keep the surge from damaging appliances. 
Surges can occur in many ways. Every wire, pipe and antenna can be a path for an electrical surge. The meter base adapter helps prevent surges from traveling through your meter base but does not protect other incoming paths. 
Meter adapters include a pair of red indicator lights to help you determine if your adapter is working. If any type of surge has damaged your adapter, one or both of the lights will be "off," or dark. If the lights are "red" the unit is working. The lights are visible on the underside of the meter collar, and on the face of the separate adapter box.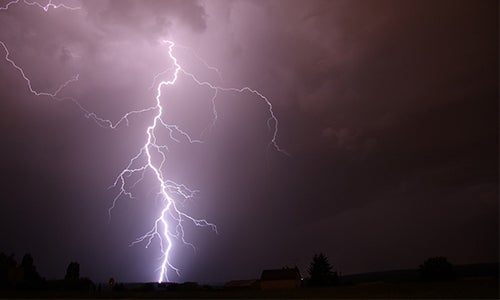 Program Cost
The cooperative will install, lease and maintain the meter base adapters for $5.95/month. Maintenance includes replacing the adapter if it takes a lightning strike and automatically installing a new adapter as the warranty nears its expiration date. 
To enroll in the monthly lease program, contact Gabe Twellman at gtwellman@cuivre.com.
Members who prefer to own the equipment may purchase it directly and maintain it themselves. CREC will install the purchased equipment for a one-time fee (please contact us for prices).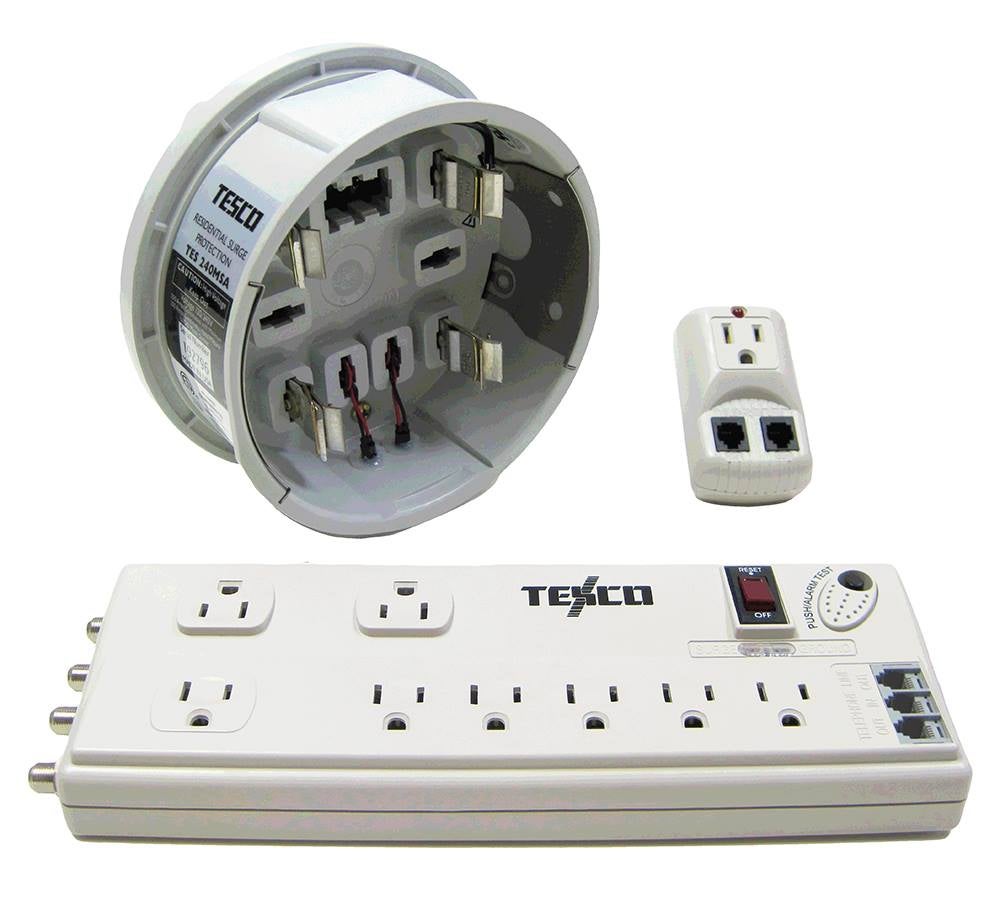 About the TESCO products CREC uses
TESCO, headquartered in Cour d'Alene, Idaho, has conducted power quality research and development since 1984 when it first began providing surge protection equipment. TESCO products are tested by Underwriter's Laboratories (UL) and the National Electric Energy Testing and Research and Application Center (NETRAC). 
Click here for an updated list of items covered under the TESCO warranty.
TESCO electric meter socket adapters protect appliances from surges that enter a home from an external power line. TESCO Plug-in surge suppression strips protect individual appliances from transient surges from internal electronic noise, bad switches, and internal telephone and coax sources. Surge suppression strips can also help extend the life of appliances. Single outlet cubes protect electric appliances not suited for a plug-in strip (i.e. garage door openers, microwave ovens, etc).
Eight outlet TESCO surge suppression strips with two telephone and two coax cable outlets and single outlet TESCO surge suppression cubes can be purchased through CREC.
For pricing and more information, please contact Gabe Twellman at gtwellman@cuivre.com.