CREC History
Cuivre River Electric Cooperative was founded on March 6, 1941. Families from Lincoln, Pike, St. Charles and Warren Counties attended a meeting called by local Farm Bureau agent John Matthews. The Cuivre River Electric Cooperative (CREC) was born when papers to incorporate were filed on March 6, 1941. 
Those original 12 incorporators were John Schaper and G.W. Bruning from Foristell, Elizabeth Goodman from Wentzville, E.M. Magruder from Foley, Mrs. John N. Overall from Winfield, Mrs. Frank Shilharvey, Jr. from Troy, Frank and Emma Lohman from Wright City, O.D. Burgess from Warrenton, Dan Crider from O'Fallon, J.K. Waters from Elsberry, and M.F. Duvall from Clarksville. 
Nine were chosen to represent the members and serve as the duly elected Board of Directors. Schaper was elected president, Waters was vice president, Mrs. Overall was secretary, and Bruning was treasurer. Also serving on the original Board were Crider, Burgess, Magruder, Goodman and Mrs. Lohman.
Part of the first order of business was to hire Walter E. Longanecker as the "Project Superintendent/Coordinator" a position that essentially became general manager. He was paid $150 per month - with a $50 travel and expense account. Longanecker was previously employed as assistant manager at the Ralls County Electric Cooperative in New London, Missouri. 
Their actions came as a result of frustration with existing electric utilities that were reluctant to serve outside the city limits of most communities. Primarily investor-owned businesses; these companies did not think rural service could ever be profitable. They rejected low-interest financing offered them by Franklin D. Roosevelt's Rural Electrification Administration (REA, now the Rural Utility Service) as early as 1935.
As rural community leaders, CREC's original incorporators decided to pool their resources, form their own businesses, and apply for the REA loans that were offered. CREC members soon identified their electric cooperative as "the REA," when in reality CREC and the REA were never the same. In 1987 CREC paid off the last of its REA loans and obtained financing from private lenders more responsive to CREC's growing suburban needs. 
History Book
NEW! CREC published its second history book, covering the cooperative's operation from 1998 to 2021, the year of our 80th anniversary. The book is available as an e-book that can be viewed here.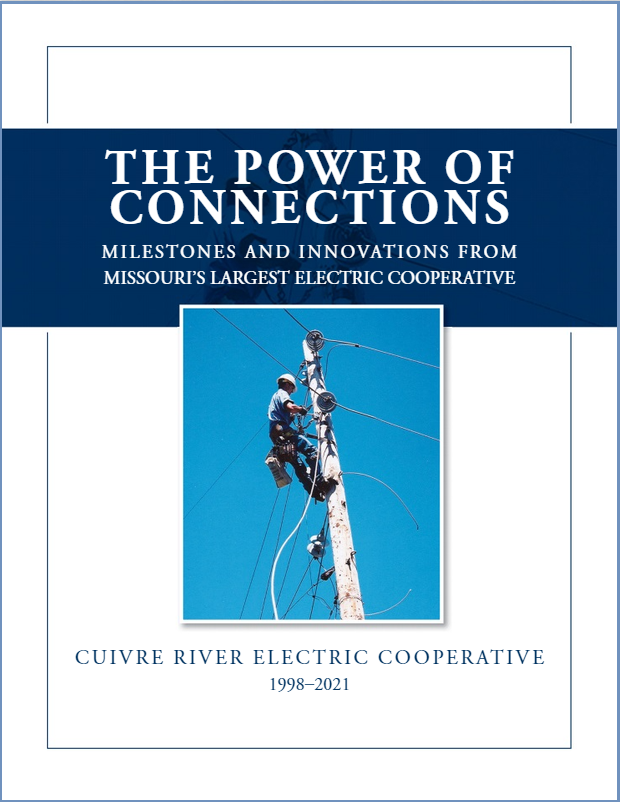 As a condition of early federal loans, CREC developed a utility network for its entire five-county service area. Originally CREC served any rural or unincorporated area. A state law prohibited cooperatives from serving cities with populations above 1,500. In the early 1990s, the general assembly passed legislation allowing utilities and cooperatives to negotiate territorial boundaries that override the 1,500 rule with Missouri Public Service Commission (PSC) approval. In 1993, CREC and Ameren received PSC approval for some territorial boundaries south of I-70 in St. Charles County. In 2002 the PSC approved some boundaries in Lincoln and Warren counties. In most agreements, each utility continues to serve its existing customers but can reduce the costly, inefficient duplication of facilities. Many areas without designated territories remain. CREC has facilities in many locations that were once rural, but in some cases, the cooperative still remains restricted from providing new electric service due to Missouri's 1,500 population rule. 
The term "cooperative member" refers to a person, family, or business that purchases electricity from the cooperative. One member = one vote. CREC is governed by a board of 12 directors elected by CREC members at annual membership meetings. Each director lives in one of CREC's 12 districts. 
With over 70,000 members, Cuivre River is the largest of Missouri's 40 consumer-owned electric distribution cooperatives. 
During the past year, clean, low-cost coal was the primary fuel (50%) used to generate electricity for CREC members. Natural gas (29%) was a critical secondary fuel to support reliability. Green power (12%) was provided by wind farms in Missouri, Kansas and Oklahoma. Hydropower (9%) was provided through federal dam projects. 
Power suppliers include: 
Central Electric Power Cooperative, Jefferson City, Mo.; provides transmission facilities and delivers power to substations for distribution to CREC members
Associated Electric Cooperative, Inc. (AECI), Springfield, Mo.; generates electricity at coal and gas-based plants in Missouri and Oklahoma, and partners with suppliers to provide wind and hydropower. AECI also uses its 21 interchange agreements ad 165 interconnection points to make power transactions with other utilities for the benefit of its cooperative members.